Features
Energy efficiency meets high suction power
power consumption of just 1,000 watts.
modern look, features a robust and impact-resistant 20-litre plastic container and a flat pleated filter in a filter box,
can be removed in seconds by simply folding it out ? without any contact with dirt.
ideal for wet and dry vacuuming with no need for filter replacement.
developed clips floor nozzle with two rubber and two brush strips form the perfect team
guarantee consistently excellent cleaning results.
direct attachment of accessories to the suction hose.
performs a great service during working interruptions.
"Pull & Push" locking system, the ergonomic carrying handle and the practical cable and accessory storage on the device.
Specifications
Actual suction power* (Air watts) : 220
Energy use (W) : 1000
Container capacity (l) : 20
Container material : plastic
Standard accessory ID (mm) : 35
Current type (V/Hz) : 220 / 240 / 50 / 60
* Measured at the suction tubes according to the IEC 60312 standard
Applications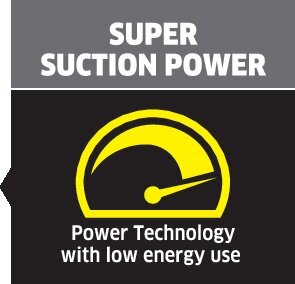 ?
Item in the box
1 unit x WD4-20L Wet & Dry Karcher Vacuum Cleaner 2.2/5M 7KG 1600W 240V
1 pcs x Suction hose, 2.2 m, 35 mm
1 pcs x Removable handle
2 pcs x Suction tubes 0.5 m, 35 mm
1 pcs x Wet and dry floor nozzle, clips with 2 rubber and 2 brush strips
1 pcs x Flat pleated filter, in removable filter box
1 pcs x Crevice nozzle
1 pcs x Fleece filter bag
1 pcs x Parking position
1 pcs x Accessory storage on the deviceSturdy bumper
1 pcs x Rotary switch (on/off)
*Recommended for
household kit
suction brush kit